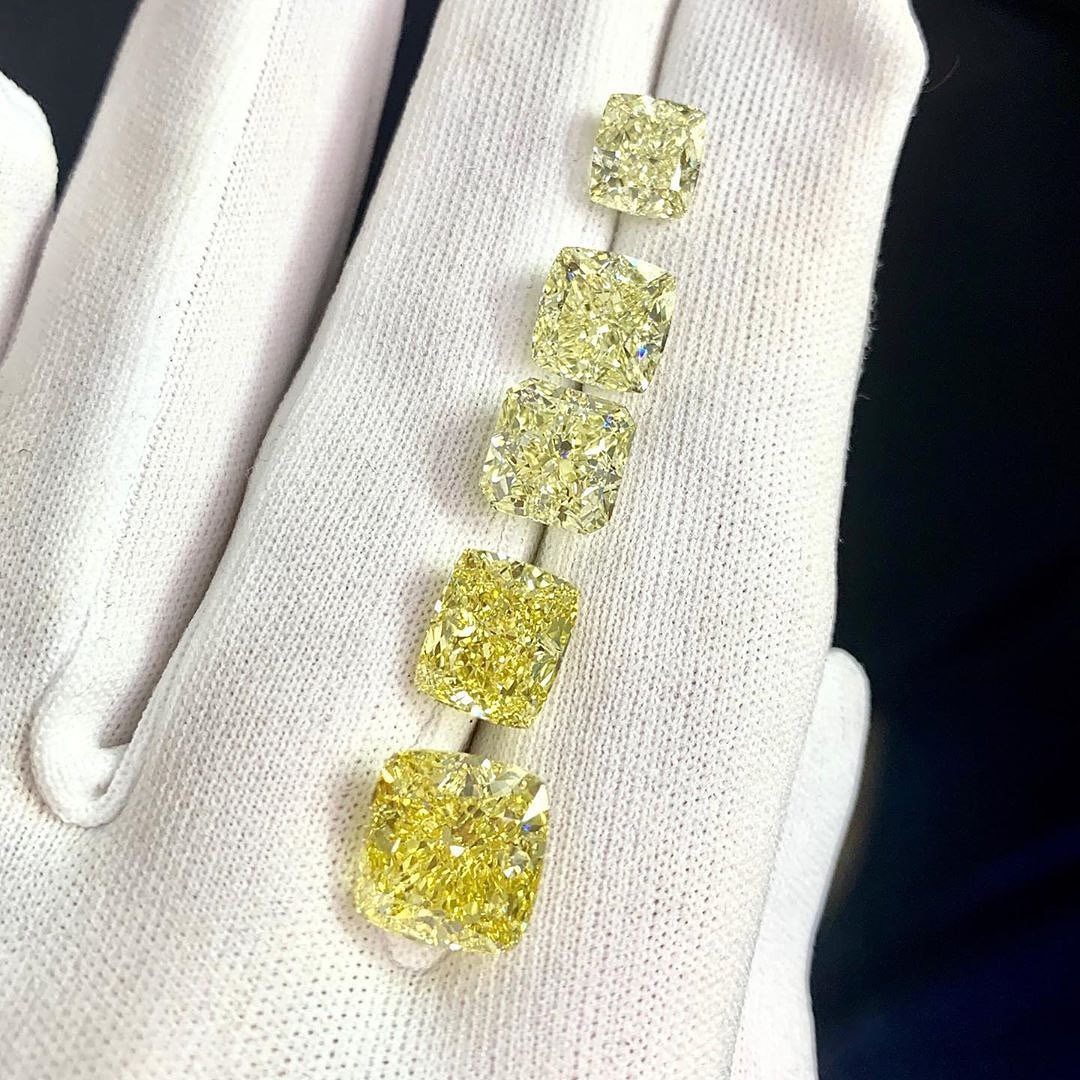 Natural fancy diamonds - yellow, green, pink, violet, orange, blue, red - have their own color grade different from colorless diamonds, and such diamonds are considered very rare and valuable.
In such diamonds color should be classified by it's saturation and it is the main factor that determines the value of the stone.
Yellow diamonds are a quite big group of fancy color diamonds that deserves special attention.
Today they are in a very good demand among all jewelry brands. Yellow diamonds are mined mostly in Australia, Botswana, South Africa, Tanzania and Russia.
To graduate yellow diamond you should define its saturation and tone. The name of the color is similar to its saturation - from light to vivid.
Not only fancy diamonds could be yellow. There is a quite big group of colorless diamonds that are from Y color and lower. They already have in most cases visible yellow color but they are not fancy and they are much cheaper than fancy yellow diamonds if other parameters are equal. In the certificate of such stones there would be mentioned Y-Z diamonds.
Fancy Light Yellow — Fancy Light Yellow is just a slightly perceptible yellow shade, between them and the previous category of Y-Z diamonds there is a very small difference in color.
Fancy Yellow — Fancy Yellow is the most popular shade of yellow diamonds, a clear and visible color, but not very expensive
Fancy Intense Yellow — bright beautiful rich yellow stones, yellow color is very clearly visible if you look on the stone.
Fancy Vivid Yellow — top canary, bright juicy saturated stones - the most beloved category, the most expensive and rare.
The most important factor that influences the price of yellow diamonds is its color, but shape, clarity, fluorescence is also playing a role, but not so significant