Tsavorite was found accidently by the British geologist Campbell Bridges.
In the 60s of the 20th century he and a team of the geologists had traveled to Tanzania to the Tsavo National Park area for searching beryllium minerals, cause they were necessary for the nuclear industry.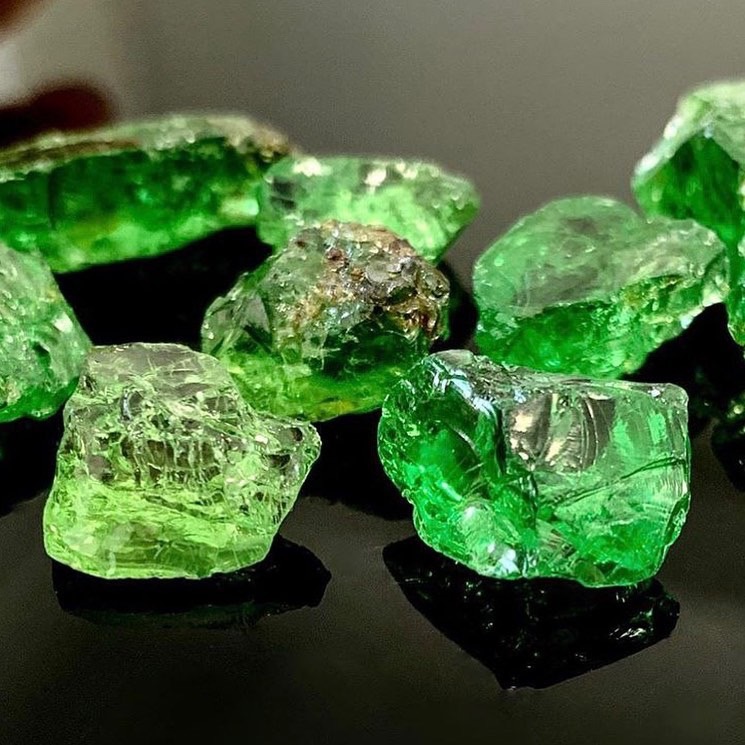 When arrived, he started to work, everything went smooz, and — like in a scary movie — an African black buffalo attacked a young geologist.
Noone knew why the buffalo was angry, maybe he just was in bad mood, but the main thing is that the angry beast was rushing towards him with all its agression and speed. Surprisingly, Bridges was not too shocked, that's why he, like Indiana Jones, began to run away from the monster and hid in a rain pit — buffaloes, they are powerful guys, but they don't see well. ⠀
This pit has saved his life. The buffalo ran away, without reaching the goal it left upset. ⠀
But Bridges was not able to leave this pit in a short time — there he saw deposit of interesting, beautiful green material — that was tsavorite. ⠀
And then, like in a fairy tale — Bridges went to the exhibition to Tucson (USA), there he met the president of Tiffany jewelry company, who was impressed with the new mineral, gave it a name in honor of the place where Bridges first discovered it — tsavorite, and began the release of collections with this stone… Tsavorit woke up famous that day. ⠀
Bridges became rich and famous. He stayed in Africa and began industrial development of tsavorite. ⠀
But there were also those who did not like the whole situation — that was the Masai tribe, on whose lands mining was carried out, and mine workers, dissatisfied with the working conditions. ⠀
In 2009, the story ended. Unknown assailants attacking Bridges' jeep, in which he was traveling with his son. As a result of the attack, he died, his son miraculously survived. Stories with minerals and big money rarely have the happy end. ⠀
Tsavorite mining continues till nowdays in area between Kenya and Tanzania.