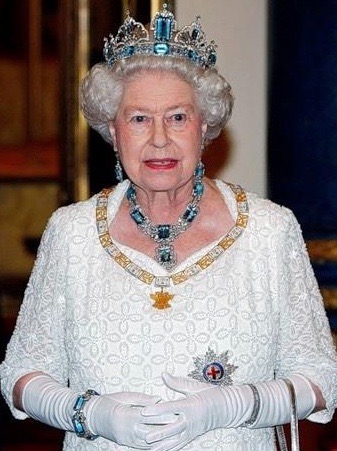 Elizabeth II in a parure with aquamarines
Aquamarine is the most beautiful, noble stone, thus it is not surprising that representatives of the royal families very often paid attention to it.
There is a set of jewelry called Parure, where items are selected according to the quality and type of stones, and the material and the unity of the artistic solution.
A complete parure includes a diadem, a necklace, a brooch, earrings, bracelets, rings, possibly hairpins and hair ornaments. A real big parure involves a ceremonial dress and a particularly solemn setting.
We will definitely tell you about royal parures, but today we will pay attention to queens wearing aquamarines.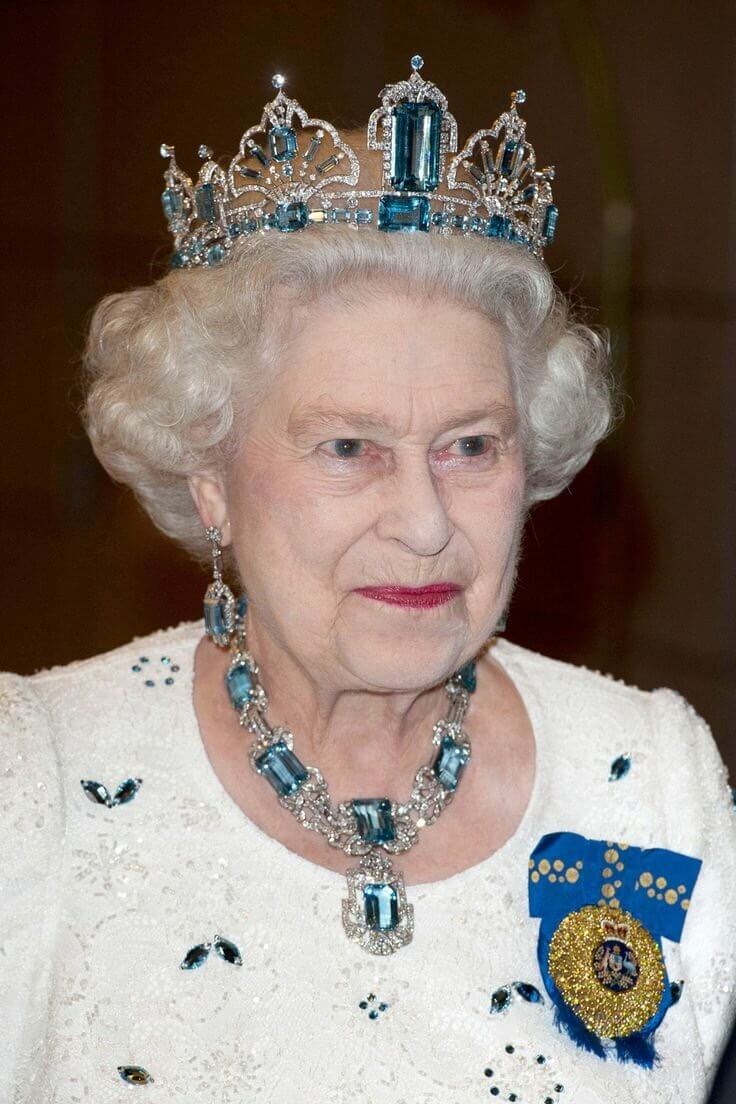 Elizabeth II in a parure with aquamarines
This platinum set with aquamarines was gifted to Queen Elizabeth II by the President of Brazil in the 1950s Initially it consisted of a necklace and earrings, and Elizabeth ordered a tiara to the set.
A year later, the President of Brazil decided to complement his gift with a bracelet and a pendant-brooch. Another 10 years later, in 1968, the Queen was on an official visit to Brazil, where the governor of São Paulo gifted her with a hair ornament again with aquamarines. This royal parure consists of a tiara, a necklace, a brooch, earrings and a bracelet.
The Queen is very fond of this parure and often wears it. In 2017, she chose aquamarines to meet with the King of Spain.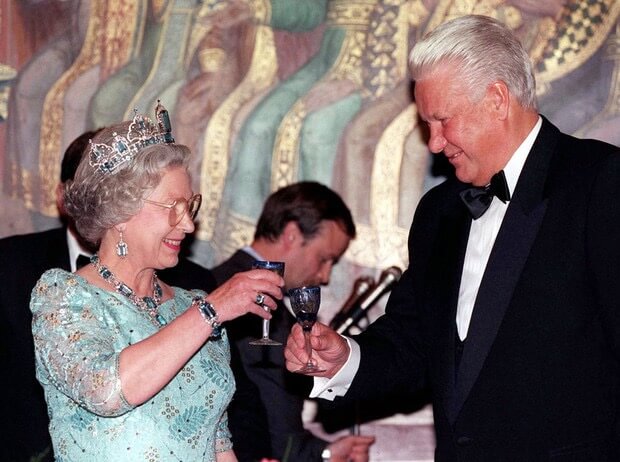 By the way, during her first and only visit to Moscow in her life, the Queen also chose aquamarines. In the photo, Elizabeth II and President Boris Yeltsin raise glasses of champagne at a State Reception in the Kremlin on October 18, 1994.
Elizabeth II is not the only queen who prefers aquamarines. The Romanovs also treated aquamarines with a great respect.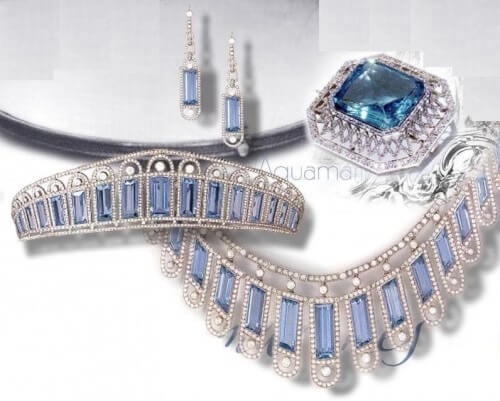 The parure with aquamarines belonging to Alexandra Feodorovna, the wife of Emperor Nicholas II, can be seen in the photo.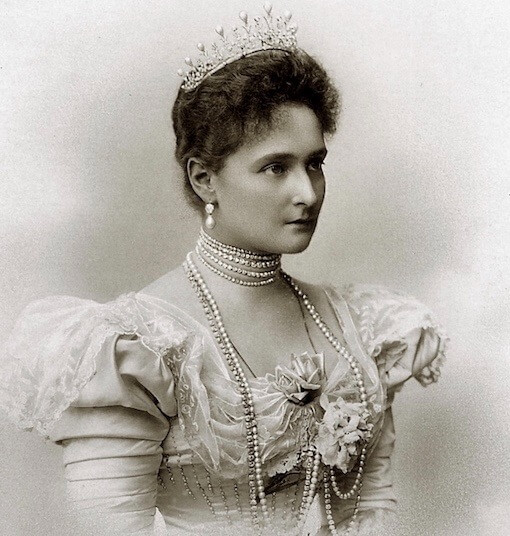 The parure consists of a baguette-shaped aquamarine tiara, a necklace, earrings and rings.
This parure was made by the Carl Fabergé Jewelry House. Alas, it was lost during the revolution.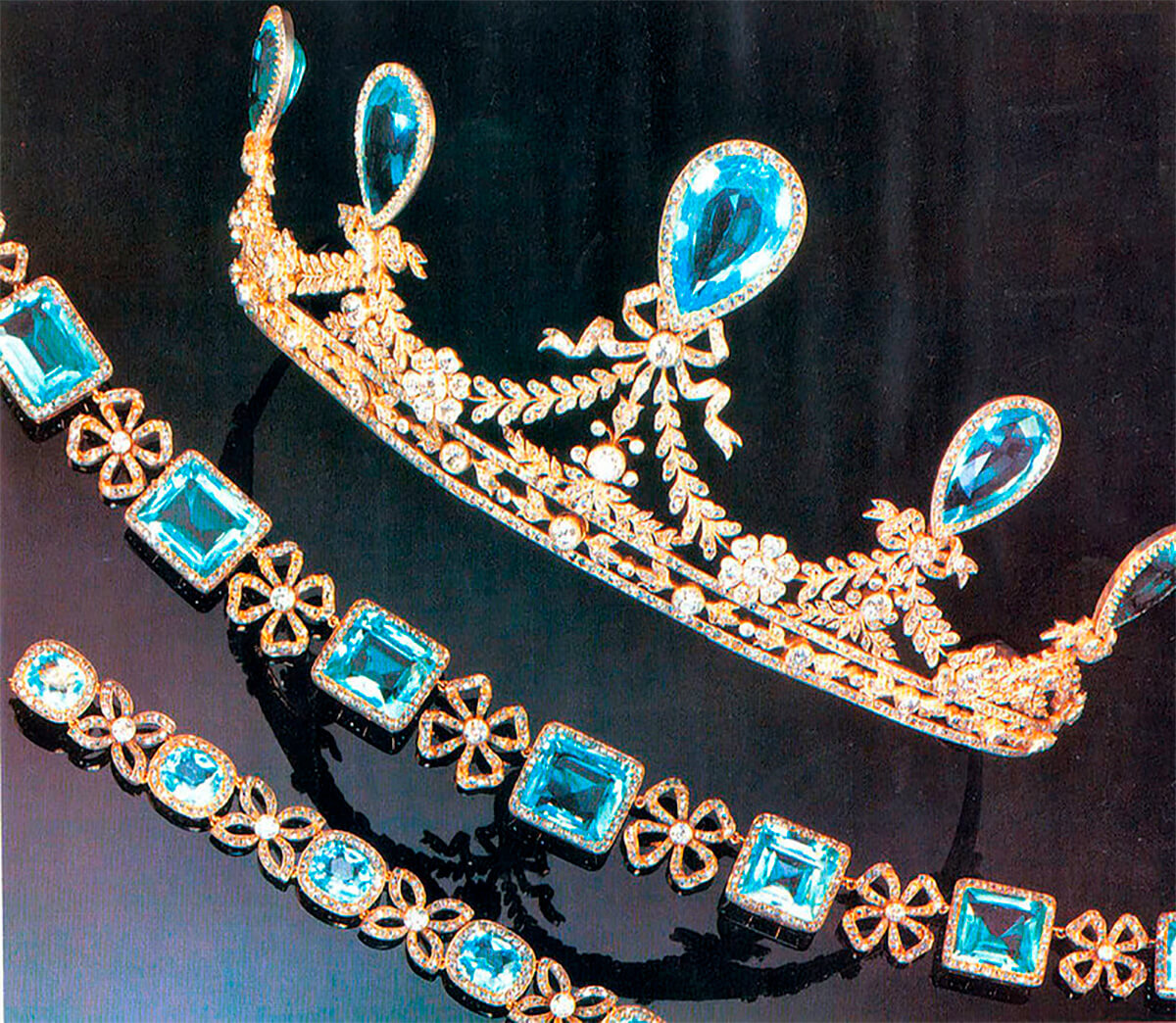 Empress Alexandra Feodorovna's (wife of Nicholas II) sister Elizabeth Feodorovna - was also a happy owner of a parure with aquamarines, which she received as a gift for her wedding with Grand Duke Sergei Alexandrovich.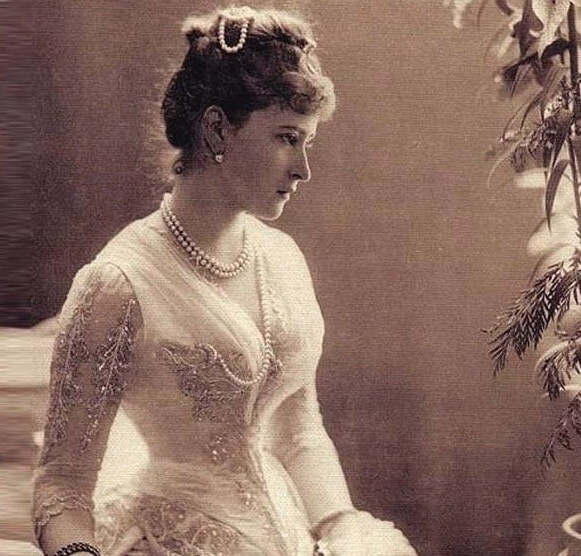 The parure consists of a tiara, a necklace, earrings and a bracelet. It was also made by the Carl Fabergé Jewelry House.
The parure was not lost during the revolution. In 1996 it was anonymously sold at Sothebys auction.

Another royal jewelry is the parure of Olga Paley, Duchess of Hohenfelsen, wife of Grand Duke Pavel Alexandrovich.
It consists of a tiara, a necklace and a corsage jewelry. It wad made by the Cartier Jewelry House. This set did not disappear during the revolution only because in 1919, after the execution of her husband, Olga managed to escape to Paris with her children and jewelry.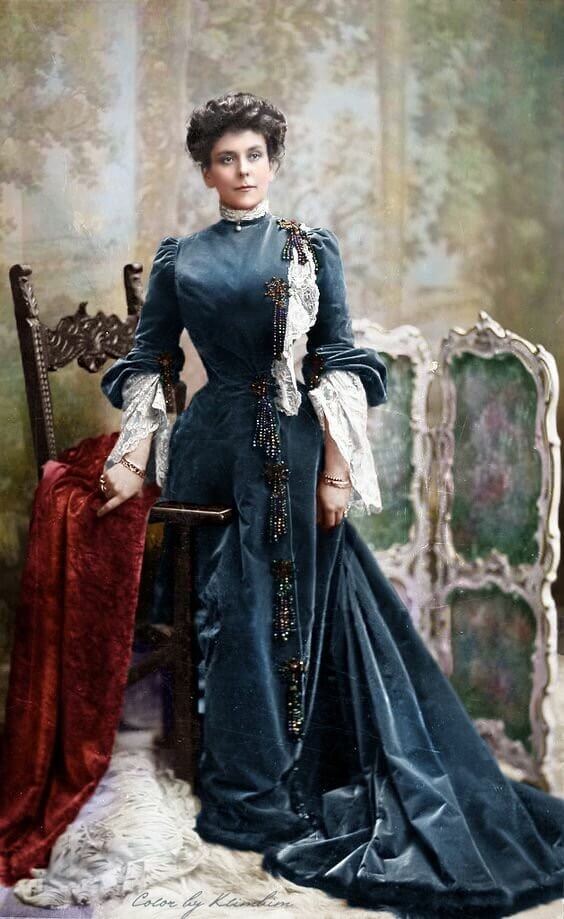 Let's talk about another royal aquamarine jewelry, thanks to which, aquamarine became immensely popular in just one day.
It is Princess Diana's aquamarine ring. The ring is made of yellow gold with a big saturated aquamarine and diamonds.
Diana got it after her divorce, it became kind of a replacement for her engagement ring with an oval sapphire. In fact, she wore it only a few times - for the first time during her trip to Sydney in 1996, and then at a private auction of her dresses in 1997.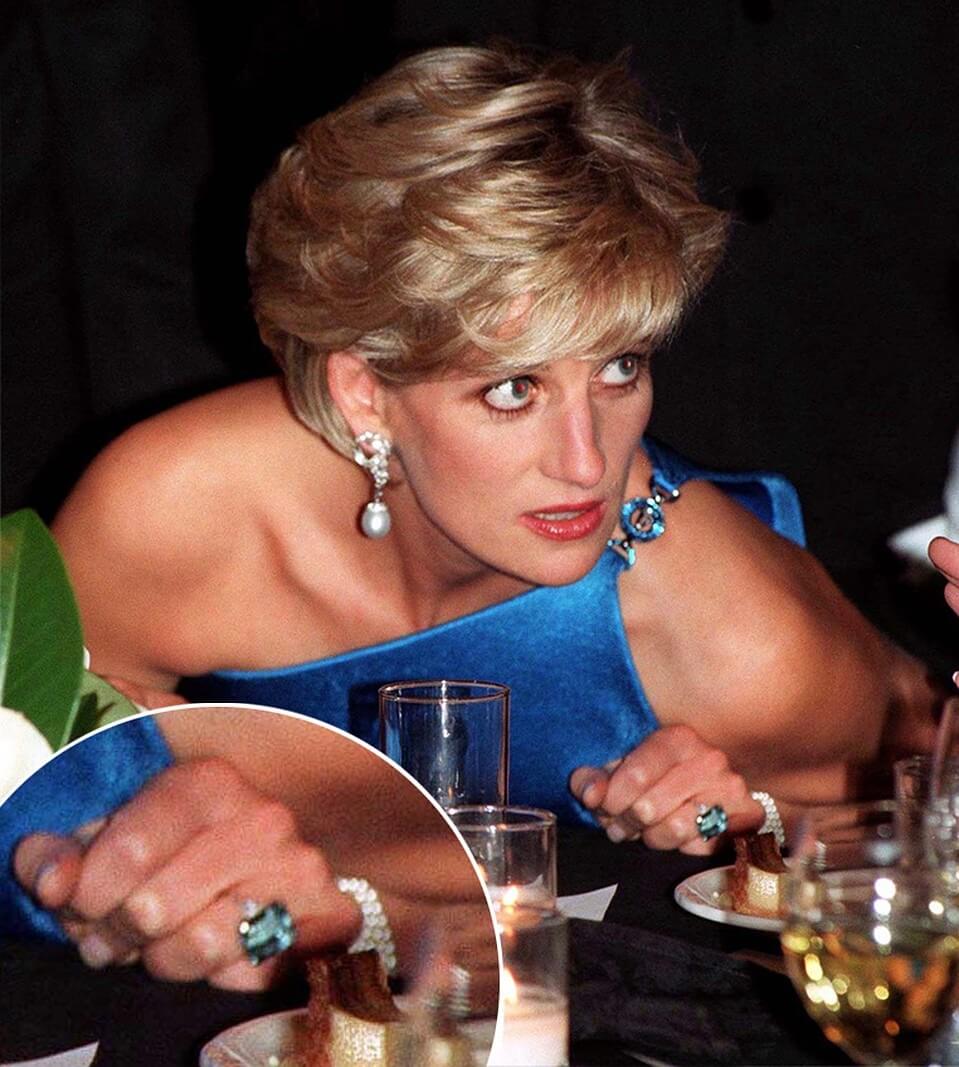 This aquamarine ring literally "woke up famous" after the wedding of Prince Harry and Meghan Markle.
After the church wedding, the couple headed for a private celebration at Frogmore House. After the Givenchy wedding dress, Meghan changed her outfit for an off-shoulder Stella McCartney dress. From jewelry, she chose a cocktail ring with aquamarine. Harry gifted this ring of Princess Diana to the bride on the eve of the celebration.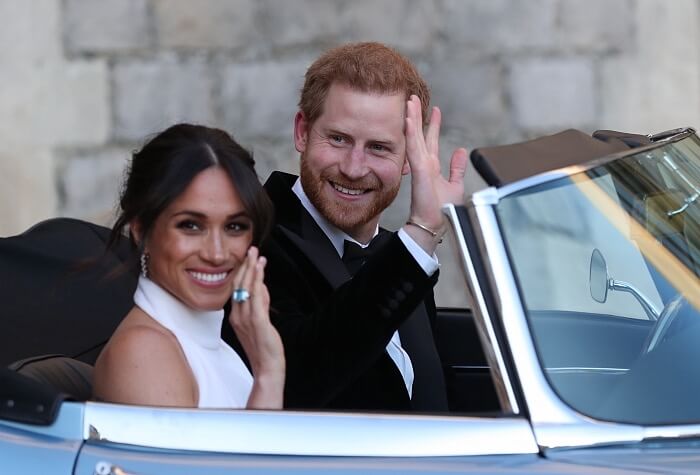 After Princess Diana's death, her sons could take one piece of jewelry in memory of her.
Harry chose the famous engagement ring with a big oval sapphire which he later gave to his older brother, Prince William, when he proposed to Kate. So, Harry chose another piece of jewelry for his fiancee - the ring with a big aquamarine.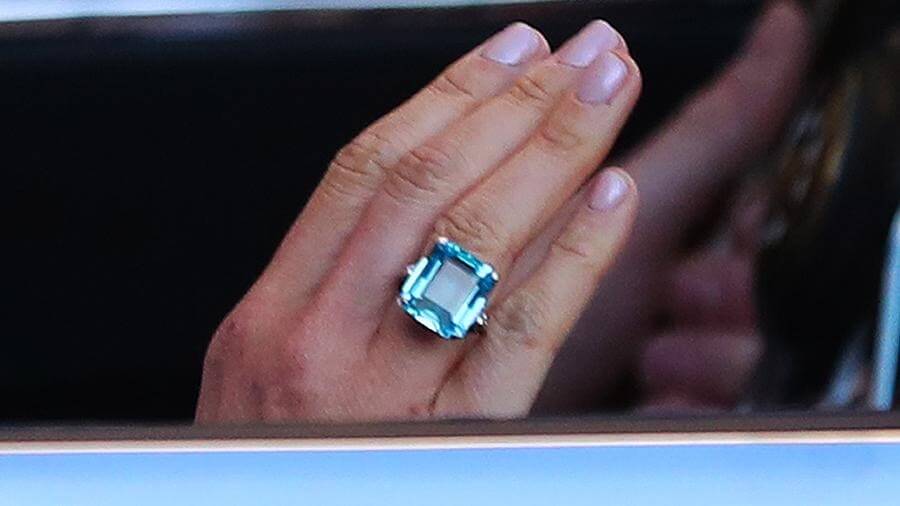 The morning after the wedding, aquamarine became the most desirable stone in the world