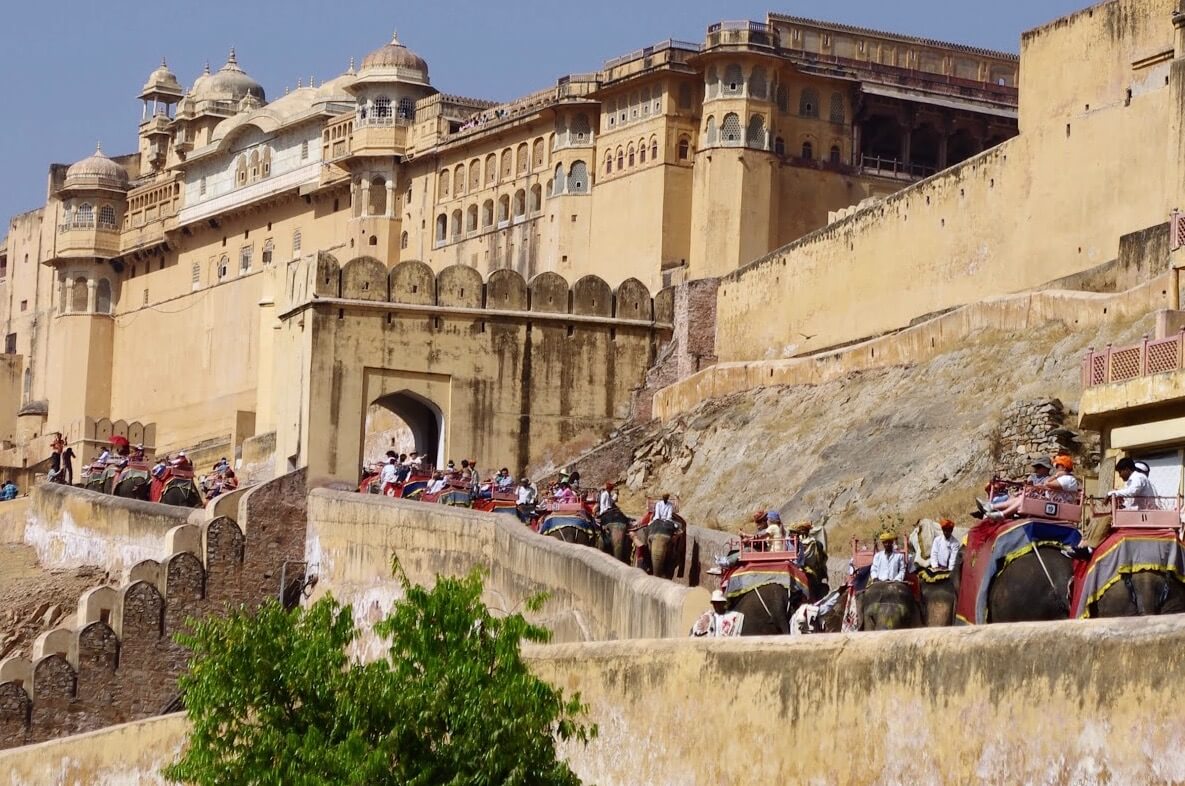 Exactly two years ago we flew to India, and today we want to tell you about this trip.
We flew to Jaipur — the continental part of India and the capital of the Indian state of Rajasthan. Jaipur is an international center for cutting stones, it can also be called an «emerald» city with confidence — there are a lot of factories that cut emeralds from Africa, the low quality from Colombia and raw materials from Afghanistan. Semiprecious stones, including small tanzanites, are also cut here.
In general, our work involves a large number of trips — these are both the birthplaces and the purchase of raw materials and international exhibitions, and therefore…. flights.
We flew from Moscow with a transfer to Delhi: Moscow — Dubai — Delhi — Jaipur. A funny, little and very old airplane like this flies from Delhi to Jaipur. It looks like a flying minibus. It flew well, but it was frightful. You can't see well on the photo, but it is propeller-driven airplane.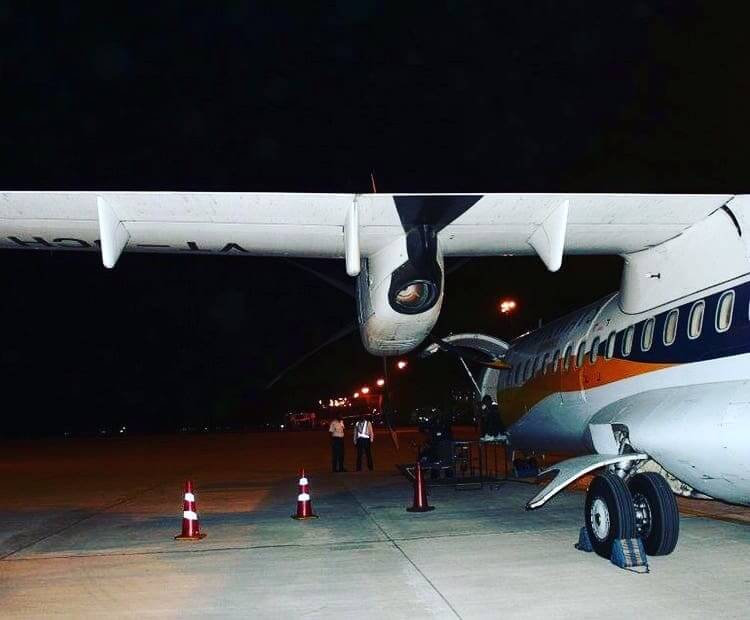 India is a country of contrasts that leaves no one indifferent. You either love her, closing your eyes to all the flaws, or hate her, or…. you fly to work. We had a very big plan: to see and buy cutting equipment, find raw emeralds and various semiprecious stones, as well as meet with our partners.
Jaipur, by the way, is also a famous tourist center of India. It is called the «Pink City» because of the unusual pink color of the stone that was used in the construction. Together with New Delhi and Agra, it is part of India's Golden Tourist Triangle.
In Jaipur it is worth seeing the City Palace, the Govind Dev Ji Temple, the Palace of Winds (or the Palace of Breeze), the Albert Hall Museum (in the photo), the Temple of the Goddess of Fertility, Jal Mahal — the Water Palace, one of the many forts — ride elephants there, and Monkey Temple, for sure.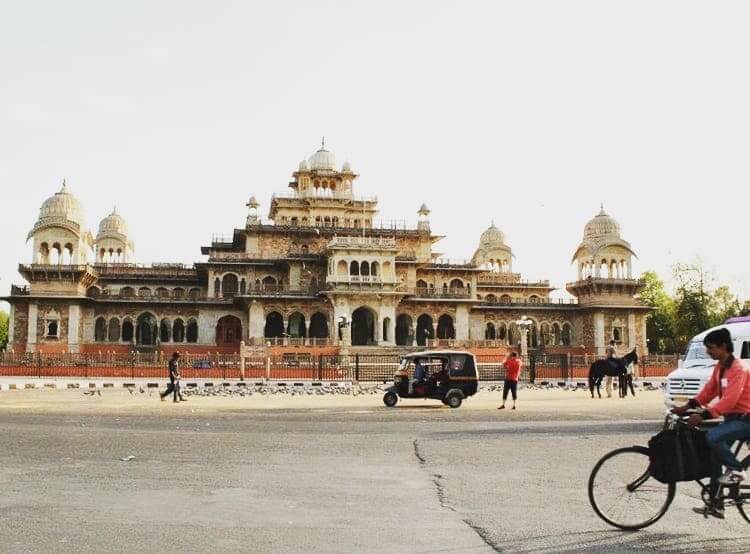 Альберт холл
The famous Jaipur Museum — Albert Hall is on the photo. This European name of the museum is not accidental — it was named after Edward VII, Prince of Wales, in 1887. The building is interesting both inside and outside. It is clean and beautiful on all tourist photos, but horses and tuk-tuks passing by show the Indian colorite much better.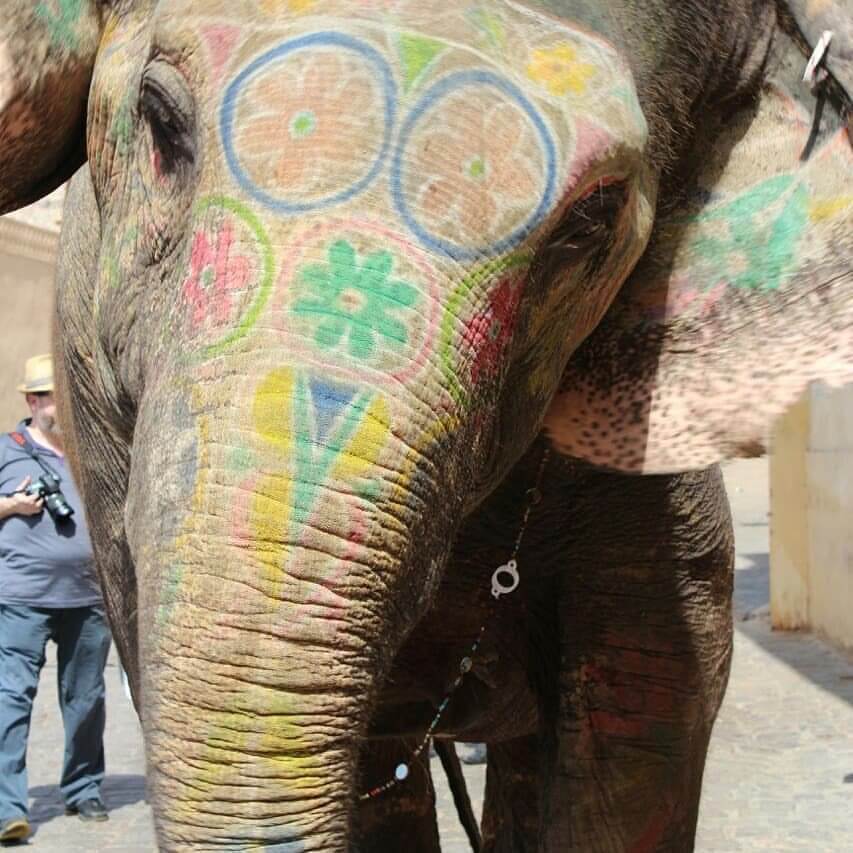 We also really liked the excursion to the Amber Fortress of the 16th century. A monumental building, on top of a hill, a few kilometers from Jaipur, it is clean and very green inside. It is better to go there with your guide so that he/she can tell you about the ancient history of the fortress. And you definitely need to ride elephants there. The feelings from the ride are very unusual) as if a two-storied house is carrying you)))
To be honest, our heads, overloaded with information, remember only the most interesting of all excursions. From this excursion, I remembered and was simply struck by the fact that a real elephant union is organized for all working elephants here, which allows them to work only a certain number of hours per day, and this is very strictly monitored)
Surprisingly, such attention is not paid to human labor here) What can I say — a country of contrasts.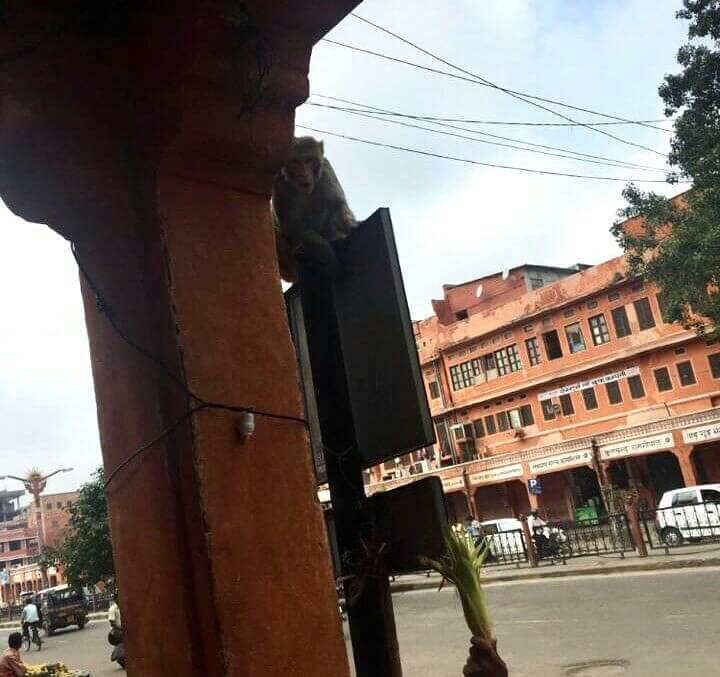 A few words about the Monkey Temple and about Jaipur itself. It is not only «Pink City» and «Emerald City», it is also a true «City of the Monkeys.»
Monkeys are everywhere, generally everywhere. They run on the streets, rooftops, climb into hotel rooms and steal shiny things.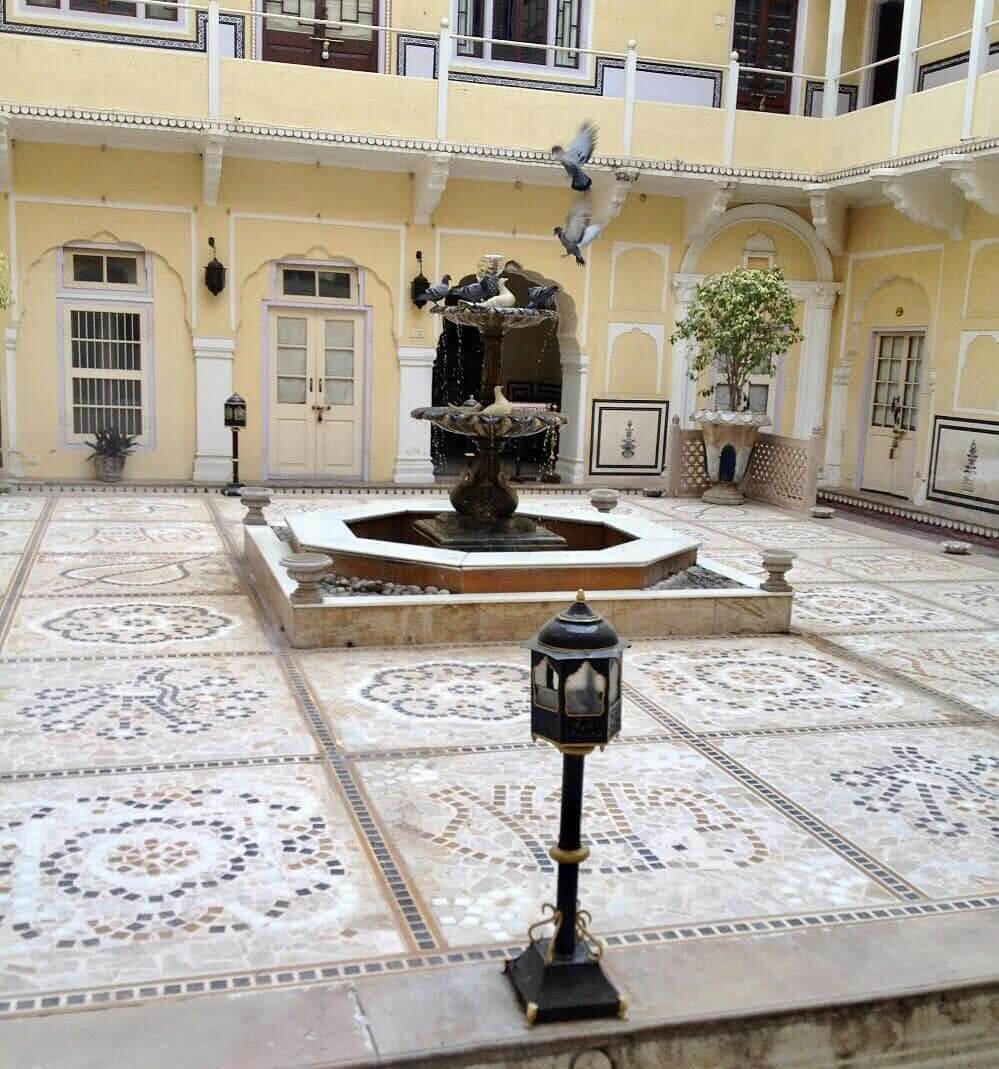 Raj Palace
At that time, we chose a real Indian palace for living and habitation. Well, we are going to India, we have to live with a local color, there is no such interesting things in international hotels.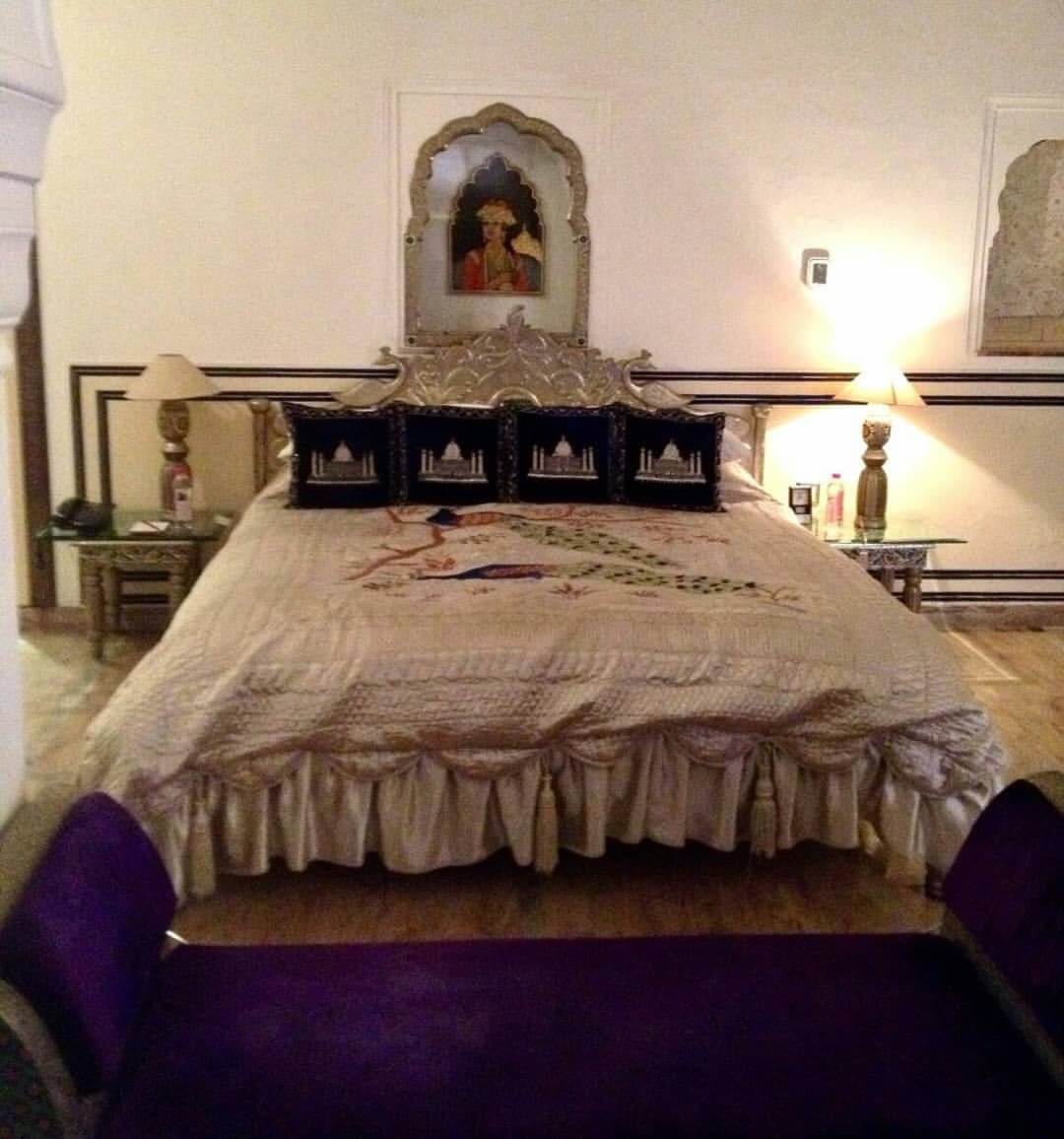 Raj Palace
So — Raj Palace — a former palace of the Indian nobility, the whitest walls, birds, greens, smiling staff, lovely breakfast.
The room is huge, about half a football field, with marble floors, good quality and weighty furniture, mirrors and chairs with real silver trimming. The tap in the bathroom is also completely made of silver.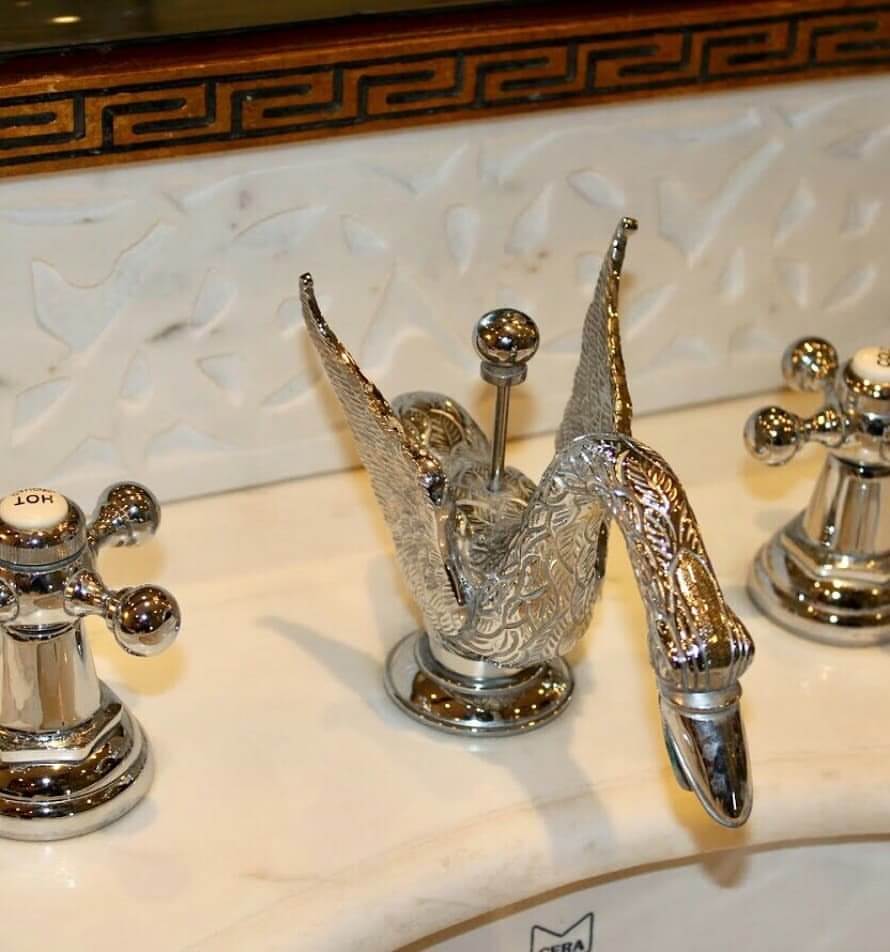 Raj Palace
And everything would have been wonderful, you are a princess, mistress and all kind of things, but it is so deserted that you feel a little uncomfortable. As if you accidentally fell asleep in a museum. In general, we slept badly, waited for ghosts, endured fear.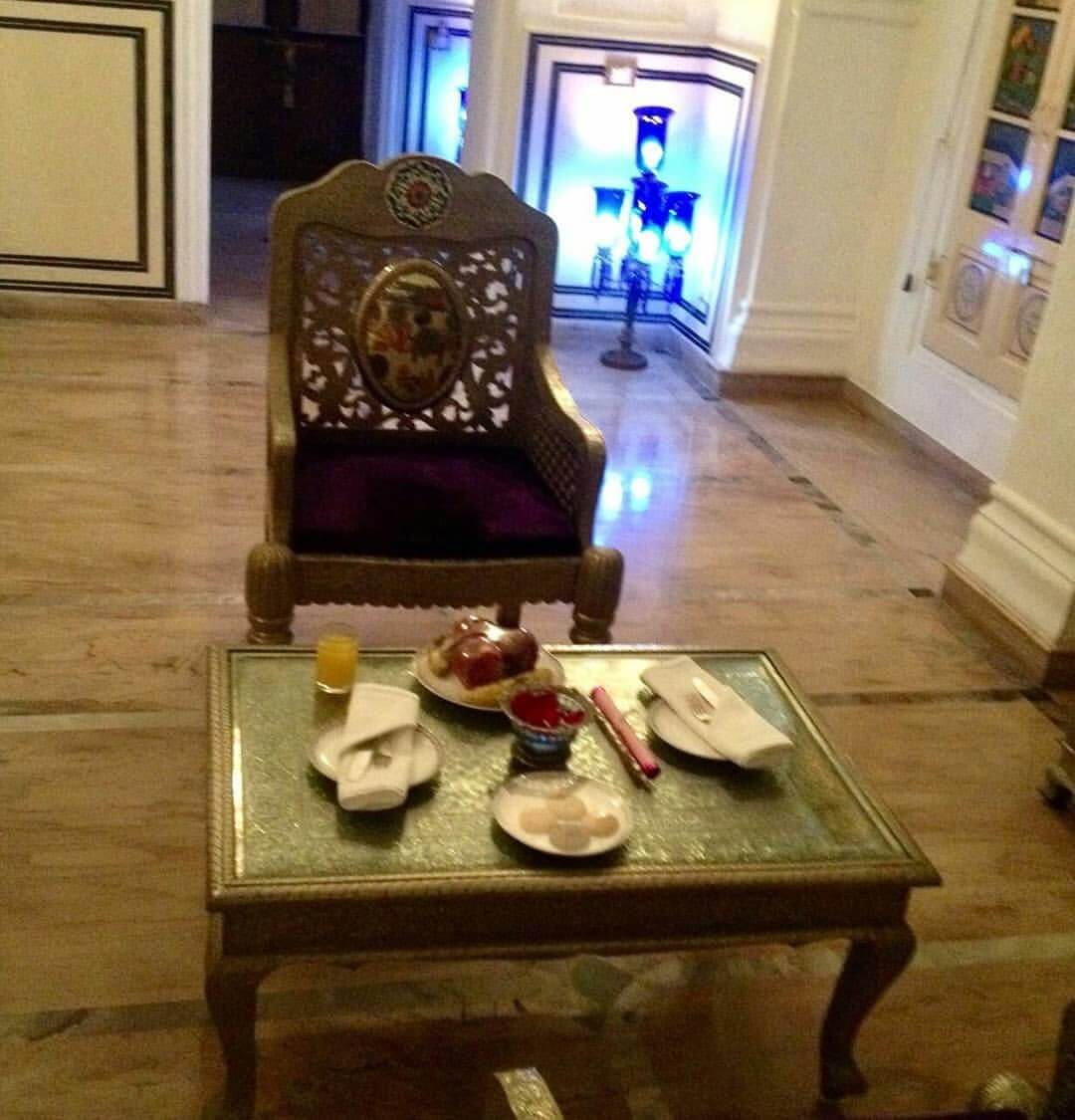 Raj Palace
All doors were closing in a very complicated way. These can only be opened by a person with a higher technical education. And you can fight off the robbers at night with the key.
Raj Palace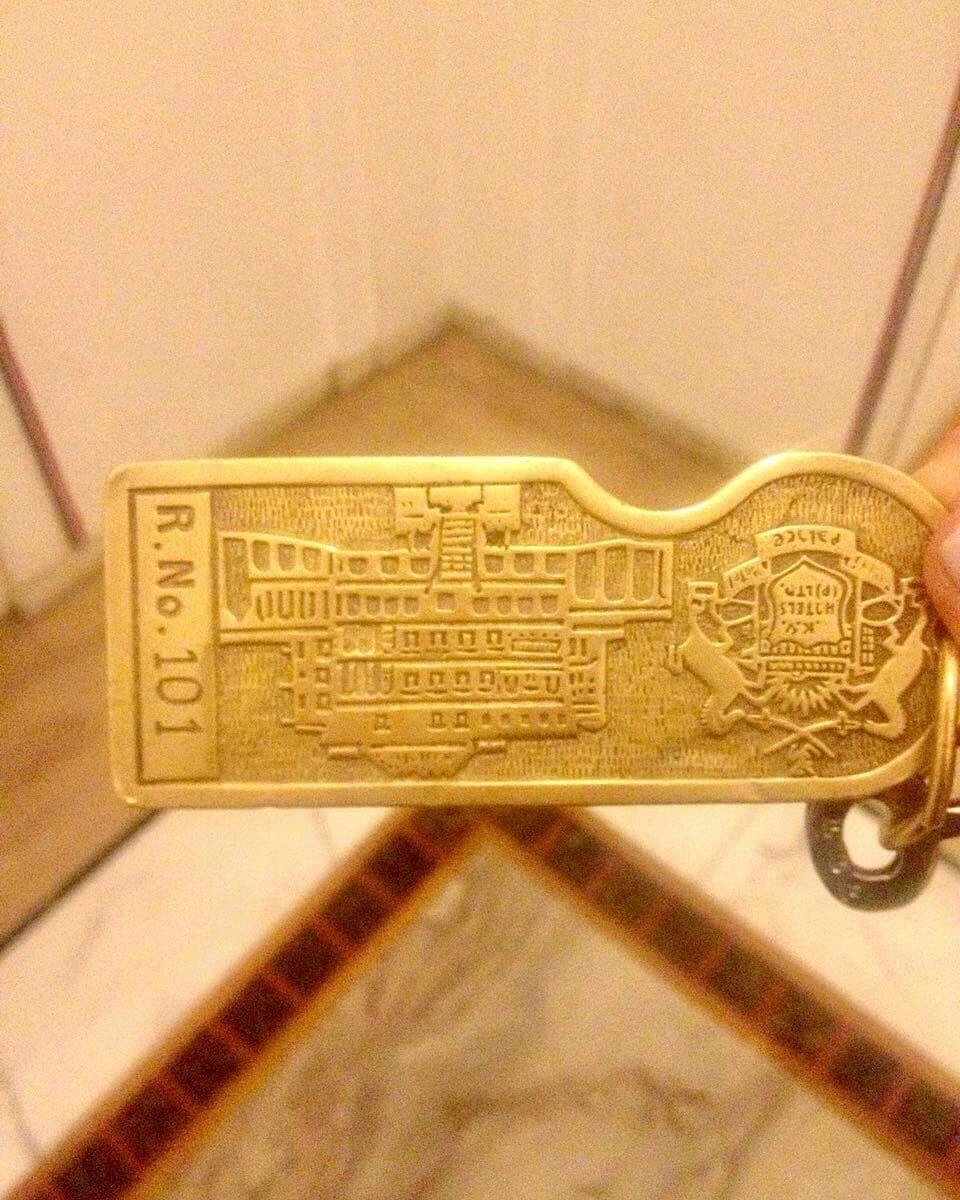 Raj Palace
Cutting in India is a historical craft that helped this country to win the title of the stone capital of the world.
But, what is most interesting, is that in most of the factories, technologies have remained at the same level at which they were during the time of our great great grandfathers. As the local cutters told us, everything that is plugged into the socket is already machine-cut.
We went to a factory, which cuts quite expensive stones. There are already real machines here, but with a local color — it's very interesting.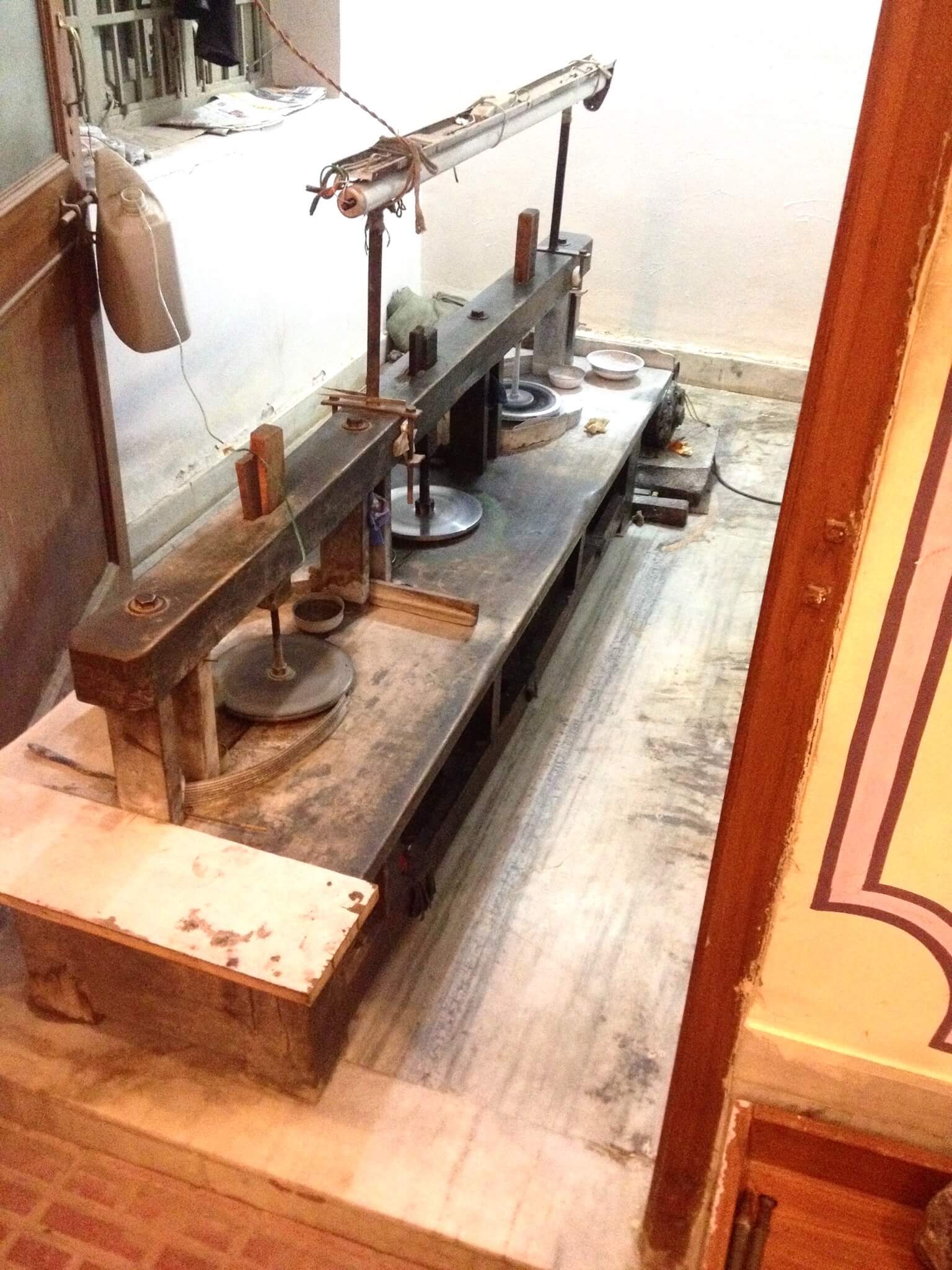 Ограночный станок
Firstly, they are all very low — all the machines are designed in a way that the cutters sit on the floor. It is, of course, warm there, and probably it is comfortable to sit like that, but what should we do in the conditions of severe winters?)
Secondly, the workplaces are located very close to each other — personal space, what is that?) Some machines are collected in a very interesting way — spare parts are connected with strings, and, it seems, with electrical tape, and well, with honest word, of course.
At the same time, in such conditions — only serious, wealthy companies can afford working on real machines, and these are mostly companies that cut exclusive stones.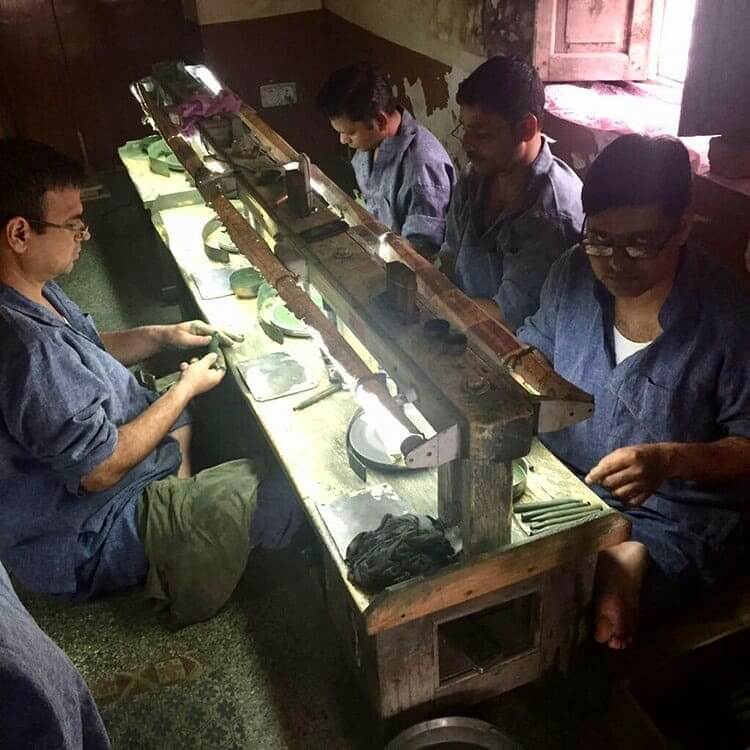 Огранка камней
While we were looking for cutting equipment, we accidentally found a real time machine. And we saw how those who invented cutting the stones, cut them.
The photo shows a cutting method that was used centuries ago and still works.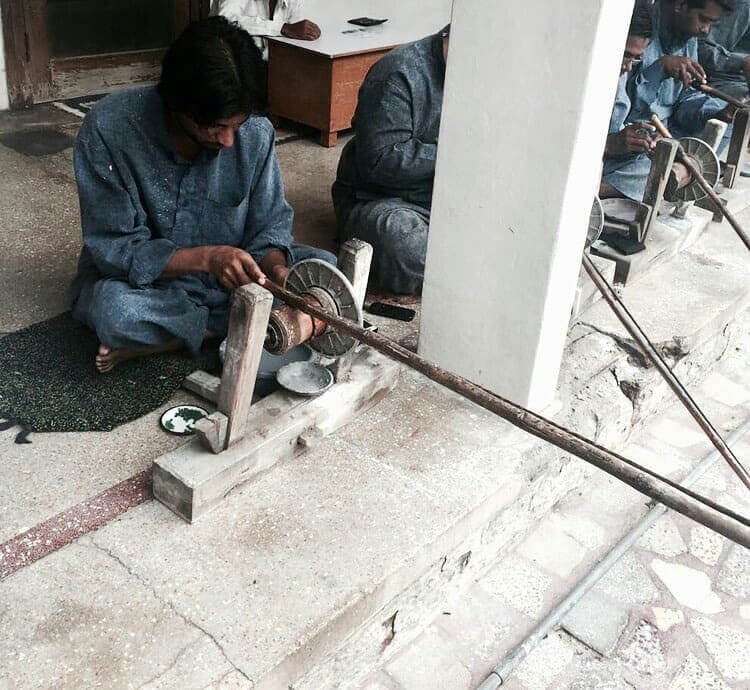 Огранка смычком
Do you see the long stick on the photo? In fact, it is not a stick, but kind of a bow, with this bow a disc with an abrasive is manually rolled, and with this abrasive the stones are polished — they are given shape and size. The faster you accelerate the bow, the faster the stone will be ready. You can even manage to control proportions by it!
It's just incredible — how an emerald is cut, which is very dangerous to touch, since it is so fragile. To cut an emerald by hand, you just have to be extremely brave.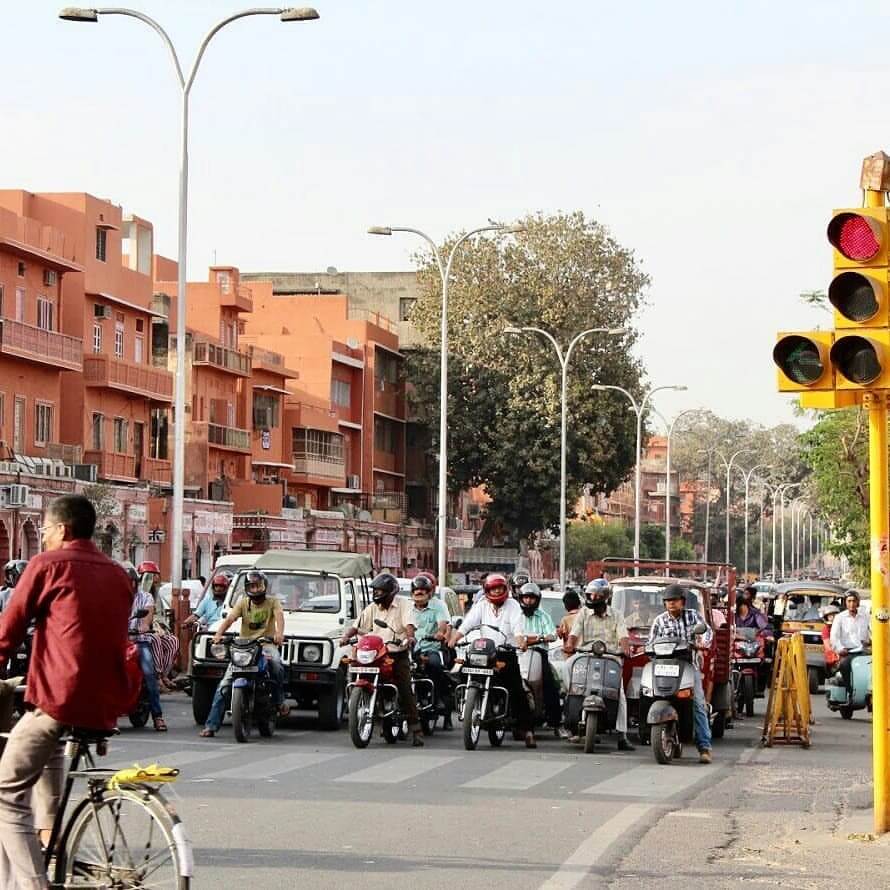 Светофор в Джайпуре
We would also like to tell you separately about the local traffic.
Everyone drives as they want and where they want. If you want to drive in the opposite lane — just do it. If you want five people on a mini moped and also a bag — go for it. If you want to drive to the right from the left lane, who would be against it. And at the same time pedestrians somehow manage to walk… And all around there are signalsssss. The noise is deafening. It is kind of a road language — you want to turn, but you are too lazy to turn on the winker — signal, you want to go straight — signal, just driving — signal… Generally speaking — signal always, signal everywhere.
Dear people — residents of big cities — believe us, there are no traffic jams in Moscow. Just as a fact) But half the trouble when you're in the car.
The fun begins when you are a pedestrian. The instinct of self-preservation simply prohibits to cross the road. Favorite Johari Bazaar — you have to cross it quite often, but every time it is a terrible stress. The only thing that helps is to close your eyes and walk.
India is a very outstanding country filled with impressions, colors, dyes and, of course, precious stones. This trip was very interesting and useful for us.